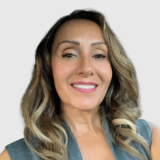 Location: Reno
Experience And Industry Summary:
Lorraine is an accomplished C-level visionary with a 20+ year track of delivering operational excellence and successful execution for start-up/developing businesses, both public and privately held ventures.  Her well-rounded experience includes complete P&L responsibility, overseeing the full product development life cycle from concept to commercialization, manufacturing, distribution, sales and marketing, business development and using smart business savvy and creative deal terms to establish valuable business partnerships.  Her accomplishments including:
Raising over $50mil in early stage capital
Taking two companies public onto the OTC-QB marketplace
Spearheading and structuring SPAC up-list transactions with NASDAQ entities
Generated single product sales in excess of $40Mil
Overseeing global cross-functional teams of 1000+
Established multiple partnerships with Fortune 500/100 companies
As a rainmaker and thought-leader wrapped into one, Lorraine has the ability to roll up her sleeves and execute any task when required, as well as having proven success in building and managing productive, cross-functional team.  Lorraine has a particular flair for establishing and growing new ground floor opportunities into blossoming and successful businesses with revenue and positive EBITDA.   As a visionary and innovator of new technology, Lorraine was co-founder, COO and Director of Biometrx,  the first company to introduce the benefits of fingerprint technology to consumers, launching a variety of fingerprint-enabled products through national retail channels in the US and beating the likes of Apple and Samsung to the punch.    Today, Lorraine feeds her passion for growing new ventures as a consultant to start-up companies, helping them leverage technology, human capital and best practices to achieve their business goals.
Latest Posts