Come to our next Lunch & Learn hosted by Matthew Starrett
Wednesday, September 14th, 12pm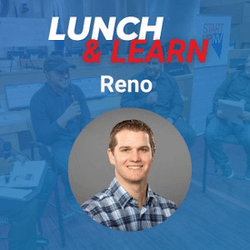 Event Details
In this presentation, you will learn how to use data to make more agile and informed decisions in your business. Together we will review best practices for data-driven decision making, KPI tracking, and experiment organization. Some highlights are:
How to calculate CAC (Customer Acquisition Cost), LTV (Lifetime Value), and more.

How to prioritize tests and experiments based on their ability to impact your bottom line using the ICE method.

How to use the funnel and revenue impact calculator (to be provided) to prioritize channels, campaigns, and activities that best impact your bottom line.
About Matthew Starrett
Matthew is the CEO and founder of TRU Venture Marketing, a data driven B2B marketing company. Matthew started TRU Venture Marketing at just 21 years old, and has since helped over 30 different companies to generate tens of thousands of leads predominantly in the technology and software space.
——————————
Doors open at 12:00 pm, and the speaker starts at 12:15 pm.
Free parking is available in the parking lot of UNR Innevation Center, at 450 Sinclair St. Reno, NV 89501
Also available to stream live through Stream It Now:
Lunch is provided with ticket purchase, which includes sandwiches, chips, salad and beverages.