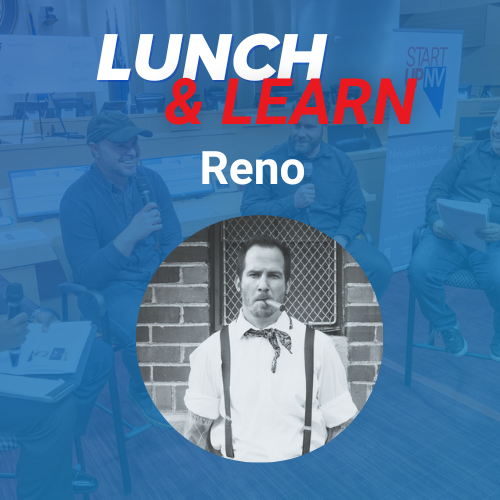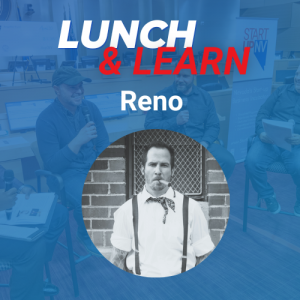 Come to our next Lunch & Learn hosted by Bill West Wednesday August 10th, 12pm
Event Details

Join us August 10th to have a discussion with Bill West, owner and lead eyebrow-raiser of Bareknuckle Brand Marketing. Bill will lead a discussion rich with horror stories and truth-telling examples of what not to do with your business's marketing efforts. Also, he'll share a demystifying approach to branding and marketing that brings serious punch to businesses large and small (yes, medium too).
West will cover…
The intersection between strategy and creative as they play in marketing and business overall.

The distinction between branding and marketing, and how they wildly influence each other.

Why the world hates marketing, namely marketing agencies.

Off-the-cuff answers to participants' intriguing questions!
About Bill West
Owner and lead eyebrow-raiser of Bareknuckle Brand Marketing, Bill pulls from his background as a speech writer, ghostwriter and university writing instructor to help entrepreneurs develop a rich, compelling, articulate brand and customer-seducing marketing.
His work has been featured in media sources such as the New York Times, CNBC and Fox News; across financial websites such as e-trade; and on the back of vodka bottles.
A transplant from the sticks of Tulsa, Oklahoma, Bill dug his roots in Reno 18 years ago… finishing his masters, starting his first business, supporting local craft breweries and singing for a rock-n-roll band you've never heard of.
Bill's lifetime of awards and accolades include:
Most Handsomest, Annual Winner, Bill's Mom

Best Greaser, 2nd Grade Outsiders Play, Mrs. Coleman

Most Likely to Join/Lead a Cult, 2001, Verdigris High School (EVERYONE)

Best Prince Karaoke Impersonator, 2003, Laramie County Community College

World's Best Dad, Accidental Nomination, Coffee Mug Left on Desk

Most Regrettable Emcee Choice, 2018, American Marketing Association ACE Awards
---
Doors open at 12:00 pm, and the speaker starts at 12:15 pm.
Free parking is available in the parking lot of UNR Innevation Center, at 450 Sinclair St. Reno, NV 89501
Also available to stream live through Stream It Now: https://api.streamitnow.com/api/v1/event-url/Qv-17sidB1o9
Lunch is provided with ticket purchase, which includes sandwiches, chips, salad and beverages.