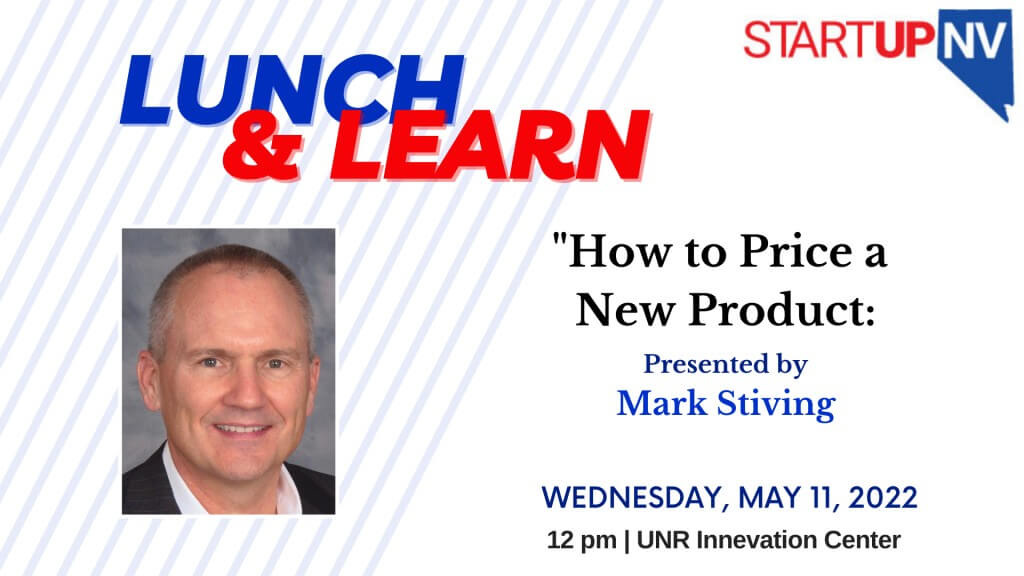 Reno Lunch 'n' Learn | May 11, 2022 featuring Mark Stiving
What will I learn?
You're ready to launch your new product or service, but now it's time to price it. But pricing is scary. Too high and you fail quickly. Too low and you may fail slowly. What's an entrepreneur to do? Come to this presentation! Mark will give you several ways to think about pricing your new product. You will learn to create a backup plan so you don't quake with fear that you'll get your initial price wrong (which you will). Most importantly, Mark will answer any pricing related questions you may have. 
Who is Mark Stiving?
Mark is an educator at heart and a pricing enthusiast by education and experience. As a pricing professional, he realized the key problem is companies don't understand value, what it is and how much they deliver to their customers. For more than 25 years he has led, coached, and taught businesses through the lens of pricing, a radically different approach from other business experts. He knows that every person inside your company affects the price a buyer is willing to pay. The prices you achieve ultimately indicate how well the entirety of your company operates.
Mark has driven company-wide pricing initiatives worth hundreds of millions of dollars in incremental profit. He started and sold three companies, improving his championship pricing skills in each one. Mark's passion is teaching the power of pricing. He evangelizes pricing at major conferences and has conducted over 400 days of corporate training around the globe. Mark's Price class maintains a net promoter score (NPS) of 81, higher than Apple's.
Mark also writes about pricing and value. His first book, Impact Pricing: Your Blueprint for Driving Profits, is a highly readable and practical manual. His second book, Win Keep Grow: How to price and package to accelerate your subscription business, is chock full of insights on how a subscription business is different from a traditional business. Mark's third book, Selling Value: How to Win More Deals at Higher Prices, provides unexpected wisdom by applying his years of pricing expertise to sales.