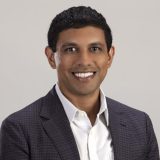 Location: Outside NV
Career Experience: Marketing, Sales, Operations
Experience And Industry Summary:
Shreyans Parekh has a decade of B2B Technology and SaaS investing and operational experience, as a business executive at Fortune 500 and hyper growth pre-IPO companies, entrepreneur and early stage investor.
He currently manages commercialization and ventures strategy, corporate strategy, vertical marketing, competitive analysis and growth within the software portfolio at Cisco (NASDAQ: CSCO). He previously managed corporate strategy for the New Relic (NYSE: NEWR) and Conga platforms, providing full-stack visibility at cloud scale and real-time analytics.
Shreyans held previous Tech, Media and Telecom M&A roles in investment banking with Jefferies Group and has consulted for such Venture Capital and Management Consulting firms as Greylock Partners, Lightspeed Venture Partners, Benchmark Capital, Sand Hill Angels, McKinsey, BCG, Bain, Slalom and PwC.
Functions: Venture Capital, Corporate Strategy, General Management, Product Management and Marketing.
Education: Wharton MBA in Finance and Strategy. University of Pennsylvania, Huntsman Program in International Studies. BS Economics, BA International Studies.