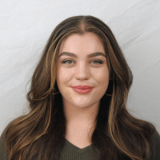 Audrey Randazzo earned her Bachelor's degree in Anthropology with a minor in Art from the University of Nevada, Reno in May 2021. While in school, she had internships at the American Chemical Society for Community Management, the Nevada Small Business Development Center for Marketing, and held a long term position at the UNR Career Center where she utilized her unique blend of analytical thinking and creative problem-solving skills.
Over the past three years, Audrey has made significant contributions to StartupNV, where she started as an intern and quickly progressed to the role of Program Manager. In her current position as Mentor Manager, Audrey plays a pivotal role in the growth and success of the accelerator programs by sourcing experienced Mentors with skills across the board. She works closely with a diverse network of professionals, guiding and facilitating their engagement with aspiring entrepreneurs. 
In addition to her work with the Accelerator Mentor Program, Audrey actively contributes to the development and enhancement of other vital programs within StartupNV. She has played a key role in shaping the vision and execution of Founder University Nevada, IncubateNV, and IncubateVegas. With strategic insights and collaborative approach, Audrey ensures these programs provide valuable resources, mentorship, and support to startup founders at various stages of their journey.
Outside of her professional pursuits, Audrey enjoys rock climbing, traveling, and visiting every coffee shop in Reno. She dislikes spending over $8 for an oat milk latte, but still supports the local ecosystem.