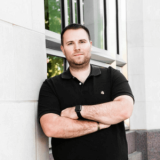 Piotr Tomasik is a highly respected tech industry leader, startup founder, and angel investor based in Las Vegas, Nevada. With his extensive background in software engineering, SaaS, and mobile applications, Piotr has a proven track record in driving innovation and contributing significantly to the tech startup ecosystem. He has recently joined StartUpNV's board as Chief Startup Officer and is a founding member of the Nevada Governor's Council on Startups and Venture Capital. As a Co-Founder of StartUp Vegas and a General Partner at Vegas Tech Ventures, Piotr is committed to fostering growth and success in high-tech ventures and startups in the Las Vegas area.
His academic journey at the University of Nevada-Las Vegas (UNLV), where he earned a Bachelor of Science degree in Computer Science with a minor in Mathematics, kindled his entrepreneurial spirit. During his time at UNLV, he served as the Director of Elections and Technology in the student government, sowing the seeds for his later achievements.
One of his notable achievements is co-founding Influential, a company that specializes in using artificial intelligence to match brands with social media influencers. Co-founded with Ryan Detert and Dan Steele, Influential, starting from a Las Vegas pool house, expanded rapidly into a thriving business and was recognized by PitchBook as the most valuable VC-backed company in Nevada in 2018.
In 2021, Piotr embarked on another venture, founding Lets Rolo, a platform designed to revolutionize professional networking. Offering a smart micro CRM system, digital business cards, Zoom backgrounds, and email signatures, Lets Rolo simplifies networking by enabling users to effortlessly exchange and manage contact information.
Throughout his career, Piotr's dedication to innovation and excellence has garnered him numerous accolades, including the 2017 Las Vegas Top Tech Exec Award for Private Business, the 2018 Vegas INC 40 under 40 recognition, and the 2020 UNLV Alumni of the Year award. His innovative prowess is further underscored by his patents in data classification and conformation systems and wager gaming systems.
As a committed member of his community, Piotr is an active mentor to emerging entrepreneurs and an advisor to various tech-focused organizations. He also holds a position on the UNLV computer science advisory board, contributing to his alma mater's growth. Whether participating in events, panels, or workshops, Piotr consistently shares his insights and experiences to help cultivate the next generation of tech industry leaders. His passion for helping others, combined with his profound knowledge and experience, solidify his position as an invaluable resource for those seeking to make their mark in the tech industry.