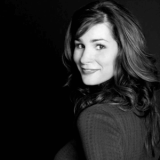 Community Manager of StartUp Vegas, Angela Bakke, is an expert communicator, project manager and innovative leader with more than 15 years of experiential marketing, communications, and customer service experience.
Angela hails from the broadcast industry where she served as strategic advisor to company and community leaders as well as relevant non-profit organizations in creating a shared mission that defined longer-term programs, made a deep impact in community betterment, and enabled community as a core tenet of a culture.
iHeart Media featured Angela as one of a select few "Women Who Shine" 2023 award recipients for her efforts to build and connect the Las Vegas community.