StartUpNV Founders Jeff Saling and Eric Madison are interviewed by Arianna Bennett on KTVN Channel 2 Face The State.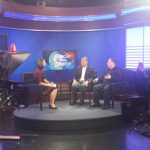 Arianna asks the founders about what they are doing for the local start-ups and entrepreneurial community in all of Nevada, but with a sharper focus on Northern Nevada and the Reno/Tahoe area. The interview covers topics from mentoring, capital funding, the state of startups in Nevada – and about some of their members, nearly 50% of which have female founders.
Click the picture or the link below to watch the 14 minute video.
Want to join StartUpNV – click any of the "pitch" buttons on the site and pick a date. Want to donate to our 501(c)3 non-profit incubation program, you can make a taz deductible donation directly by check or credit card — or give via your Amazon purchases, just click the donate link and pick what works best for you.
click picture for video