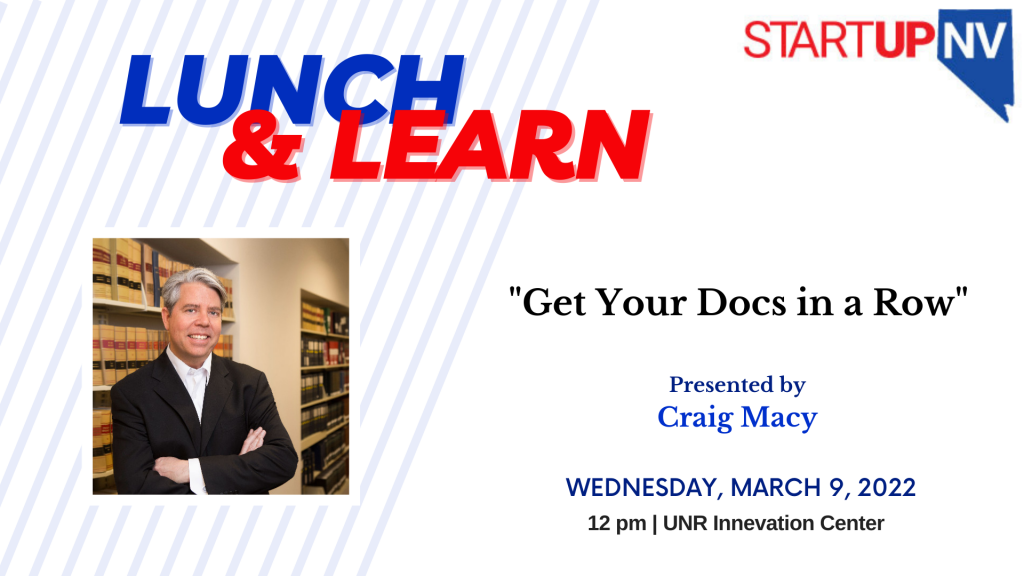 Join Craig Macy on Wednesday, March 9th at 12pm!
Getting Your Docs in a Row
    "I pulled a contract off the internet and I'm using that."
    "I just reused an agreement from my last company."
    "I know we should have done these documents already, but I just haven't had time."
    "We can clean all this up later."
    "We're all friendly, so I'm not worried. I trust them."
If this sounds like something you've said or thought, then this talk is for you. Good corporate hygiene starts with quality documents, attention to detail, and solid document management. No, this isn't the fun part of operating a business, but it is the skeleton that directs and determines just about everything, particularly in the face of the unexpected. Sooner or later, your success, survival, or both will depend on well-crafted and management documents, and by the time you need them, it is usually too late to fix. It's much easier if you have some visibility into what this all looks like. This talk will give you a starting point and then some to help you get this endeavor dialed in.
Who is Craig Macy?
Craig is an experienced attorney and business executive with a 20-year history working at successful, high-growth, venture-backed technology companies and law firms. He blends operational, legal, transactional, and intellectual property experience with practical business advice to help clients start, invest in, buy, grow, and sell companies. Craig's first roles after attending Harvard Law School included working with venture capital and founding technology startups in Silicon Valley, including joining with a group of founders in launching an enterprise software company that they then took public. Craig's clients range from early stage start-ups to non-profits to large private companies. He works with clients on their day-to-day matters, from governance to corporate contracting to employment issues, as well as on complex matters such as licensing, patent prosecution, financing, and exit transactions.
Lunch is served at noon, speaker begins at 12:15pm. The event is hosted at the Innevation Center in Downtown Reno