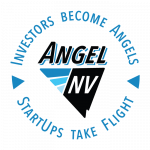 Operated by StartUpNV, Nevada's statewide incubator and accelerator for Nevada-based startup companies, AngelNV has opened enrollment for its free entrepreneurial fundraising boot camp and startup accelerator.  It starts Sept. 8 and will teach startup founders how to raise venture capital, culminating with at least one company receiving a $200k investment.
On July 21 at 2pm, StartUpNV will be holding a free online and in-person info session hosted by co-founder Jeff Saling and Mysty Rusk, Exec Director of the San Diego Angel Conference – along with a presentation by  Greg Gibson, CEO and co-founder at Meta Mechanics on "The Art of Storytelling" as a key to raising investment capital.  To find out more and register for your virtual or physical seat on July 21, click here or on the button below.

Business owners and founders who want to skip the info session – and sign-up directly for AngelNV should register online by Aug. 25 at https://startupnv.org/accelerator-application/.